Columns
Thomas Fleming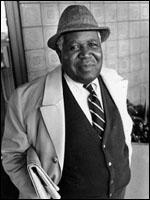 Thomas C. Fleming, 95, is the nation's oldest and longest-running black journalist. The co-founder in 1944 of the Sun-Reporter, Northern California's largest weekly African-American newspaper, he continues to write two articles a week for the paper from his home, in addition to his syndicated column, "Reflections on Black History." The column is distributed by the National Newspaper Publishers Association and sent to more than 200 African-American newspapers nationwide.
Born in Jacksonville, Florida in 1907, Fleming was initially raised by his grandmother, who he believes was a former slave. From age 8 to 11, he lived in Harlem, New York City, then moved to Chico, California in 1919.
In 1926, after graduating from Chico High School, Fleming began his career as a bellhop for the Admiral Line, then spent five years as a cook for the Southern Pacific Railroad. He entered journalism in the early 1930s as an unpaid writer for the Spokesman, a progressive black paper in San Francisco. In 1932, at the height of the Great Depression, he returned to Chico as a political science major at Chico State College, completing three semesters before returning to the San Francisco Bay Area in 1934.
In 1944 he was hired as founding editor of the Reporter, which later merged with another black paper, the Sun, to become the Sun-Reporter. For almost 50 years, the Sun-Reporter was published by Fleming's closest friend, the late Dr. Carlton Goodlett.
In July 1997, Fleming retired as executive editor of the Sun-Reporter to concentrate on his memoirs, which have appeared so far in more than 60 weekly installments as "Reflections on Black History." The column is written in collaboration with Max Millard, a former copy editor and staff writer for the Sun-Reporter, who interviews Fleming on tape, blends the words with Fleming's writings, then fact-checks the result. The complete columns to date can be found on Fleming's web page in the Free Press.
On his 90th birthday in 1997, Fleming self-published his first book, a 48-page collection of stories and photos from his early boyhood in Jacksonville and Harlem. On his 91st birthday, he published "Black Life in the Sacramento Valley 1850-1934," co-authored by Michele Shover, a professor of political science at California State University, Chico.
A lifelong bachelor who lives alone, Thomas Fleming is the 1997 winner of the Career Achievement Award for Print from the Northern California Chapter of the Society of Professional Journalists.
An archive of Fleming's works can be found at www.freepress.org/fleming/fleming.html.
Email this article to a friend

Read Articles by Year:
2014 2013 2012 2011 2010 2009 2008 2007 2006 2005 2004 2003 2002 2001 2000