Departments
Mr. Bill Moss's Light Shines Brightly!
by Jamia Shepherd
August 3, 2005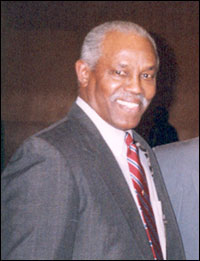 With Saddened Hearts, We mourn the Loss of a Christian..A Giant..A Royal Knight..A Prince..A Gentleman..A Scholar..and Warrior...Mr Bill Moss..passed away today, Tuesday, August 2, 2005. He was a Columbus School Board Member for 20 years plus a host of Achievements.

I'm sure He's standing side by side with Malcolm X, Dr Martin Luther King, Johnnie Cochran, Ossie Davis and many other Outstanding Black Men who have Stood Up with Integrity..Showed Up..and Spoke Out with Truthfulness. His Light will Always Shine Brightly...and His Family, The Children, The Parents, and The Community will Surely Miss Him.










Redfern backs corrupted Noes; Wins ODP Chair seat
December 20, 2005
Rady Ananda
Ohio AFL-CIO: Pryce earns "F", DeWine "Barely Passing" in "Mid-Term Report Cards" grading 2005 votes by Ohio Congressional delegation
December 20, 2005
Tom Powell-Bullock
Report on Ohio Democratic Party election
December 20, 2005
Marian Lupo, Co-Chair, CIRCA
Blackwell lifts Libertarian campaign theme: Freedom to Prosper a great idea
December 19, 2005
Robert Butler, Executive Director, Libertarian Party of Ohio
Cleveland AFL-CIO announces unanimous support of Ted Strickland for governor
December 19, 2005
Jess Goode
Does the Democratic Party need to be more democratic to win?
December 19, 2005
Clifford O. Arnebeck, Jr.
Ohio State Building and Construction Trades Council endorses Ted Strickland for Governor
December 13, 2005
Jesse Goode
Ashcroft speaks with Reformation Ohio's Rod Parsley
December 7, 2005
Rady Ananda
Holiday Hop hears about the heat
December 6, 2005
Rady Ananda
Strickland wins 18th, 19th, 20th county party endorsements
November 30, 2005
Jess Goode
Fraudbuster Bob Fitrakis announces bid for governorship
November 28, 2005
Ohio Green Party
Theocracy rising: Blackwell and Parsley intend to hijack Ohio
October 27, 2005
Bob Fitrakis
Ohio's supermax on trial
September 6, 2005
Daniel Sturm
Protests at the Dispatch continue over Bill Moss cartoon
August 25, 2005
Robbt
Mr. Bill Moss's Light Shines Brightly!
August 13, 2005
Jamia Shepherd
Mr. Bill Moss's Light Shines Brightly!
August 3, 2005
Jamia Shepherd
GAP visits OSU
July 20, 2005
Marley Greiner
Bush Greeted by Angry Protesters; Democrats Told to Get a Spine
June 13, 2005
Rady Ananda
The disappearance of black police officers in Columbus, Ohio
June 13, 2005
James Moss
Ohio State Students Support Plaintiff in Case Alleging University Wrongdoing in Rape Case
June 8, 2005
Jennifer A Yoder
Ohio Preparing Law Enforcement for Increasing Non-English Speaking Communities
June 8, 2005
Ohio Criminal Justice Services
Columbus endorsement slate
May 3, 2005
League of Independent Voters
Ohioans Rally to Stop Social Security Privatization as Congress Begins to Write Privatization Plan
April 26, 2005
Tom Powell-Bullock
Columbus League of Pissed Off Voters Release Endorsement Slate for May 3 Primary
April 24, 2005
Pissed Off Voters
Kent Students Are More Than Numbers
March 21, 2005
Charles E. Campbell
Higher Education Funding Cuts Hurt Ohio's Future
March 15, 2005
Lisa K. Zellner
Boy Scouts of America's Simon Kenton Council Attempts to mislead United Way of Central Ohio to get funding
January 29, 2005
Beacon Fellowship Columbus
Read Ohio Articles by Year:
2013 2012 2011 2010 2009 2008 2007 2006 2005 2004 2003 2002 2001 2000