Departments


Whirlpool in Evansville
by Jason Perlman, Communications Director, Ohio AFL-CIO
March 5, 2010

There is a saying that there is nothing wrong with being knocked down, but it is when it becomes more comfortable being down than getting back up it is time to give up. For several decades, the American workers keeps getting knocked down as corporation after corporation move good, middle class jobs to third-world companies claiming poverty, even at a time when companies are reaching record profits. But the Whirlpool workers at the Evansville, Indiana plant, along with over 5,000 other working Americans, stood back up and decided they don't want to be knocked down anymore.

A rally hosted by the IUE-CWA and led by AFL-CIO President Richard Trumka took place Friday, Feb. 26 with a simple message: The American Middle Class is being eroded by corporate greed.

"Whirlpool is a bad corporate citizen who is twisting this country's desire to reduce energy usage and using it to export jobs. We are pushing hard to ensure that good intentions on going green don't help fund loss of good manufacturing jobs," said IUE-CWA President Jim Clark.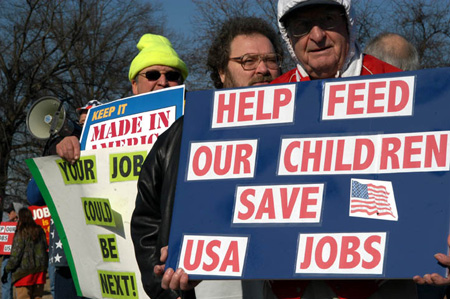 Whirlpool had revenues of more than $4.8 billion in the past quarter alone. The company also recently received $19 million as part of the American Recovery and Reinvestment Act: Yet, the company is spending $110 million to build a new plant in Mexico. Yet it is willing to put over 1,000 workers on the street.

"If there was ever any doubt in anyone's mind how Whirlpool feels about the people that work for them, this should relieve that now," said Darrell Collins, local union president in a statement to members. "It is clear that all they care about is the money. These 1,100 hourly people, the 400 salary people, and the community should take comfort in the fact that you are expendable to make a dollar."

Trumka, along with dozens of union members, delivered thousands of petition signatures from people across the country that are tired of seeing companies claim patriotism on television ads and then turn around and destroy American communities the next day.

"We just tried to deliver the petitions but nobody was home. But we have known that for a while," said Trumka. "These are our jobs and we intend to claim them." Although the petitions will have little effect on the decision of Whirlpool to destroy thousands of families in Evansville, the 5000-plus rally goers hope it will make an impact on other companies thinking of doing the same.

"We drove over five hours from Portsmouth, Ohio to be here and support the workers of Whirlpool. But this is about something bigger as well. We, as Americans, cannot sit idly by while companies take our hard-earned tax dollars and use them to destroy our lives, our families and our neighborhoods. It is time we said enough is enough and this turnout shows me the American worker is getting tired of being treated like trash," said Shawnee District Labor Council Secretary-Treasurer Austin Keyser.

According to investors.whirlpoolcorp.com, 2009 fourth quarter net earnings for Whirlpool rose 111 percent to $95 million compared to the fourth quarter of 2008. Sales of merchandise also increased. They were $4.9 billion, a 13 percent increase compared to the fourth quarter of 2008. When factoring in costs and foreign exchange changeover fourth quarter sales in 2009 were still 5 percent greater compared to 2008.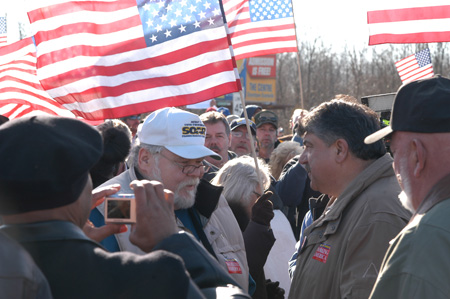 "It's not wrong to make a profit, but let's not turn our backs on the people who made it for us," said Tony Lee, an 18-year plant employee who joined Friday's protest.

With their jobs and livelihoods on the line, workers from the Whirlpool plant received a letter from plant executive Paul Coburn telling them that taking part in the peaceful demonstration could cost them employment opportunity once they are laid off. To think a company, who for no other reason than pure greed, would want to take away the last vestige of hope of the same employees that made the company as profitable as it is, is almost unthinkable.

"This particular closing takes things to a whole new level," Trumka said. "Whirlpool not only wants to take jobs and send them to Mexico, they want to take their first amendment rights, their right to free speech." Not only that, they are taking the dignity and respect from the hardworking women and men.

"I had a brother who worked down there 37 years," rally participant Roger Myers said. "My father died on a picket line out here in 1983...Corporate gets bigger and bigger and they're killing us."

The rally began with chants of, "U-S-A, U-S-A," "Keep it made in America," and "Save our jobs" and ended with President Trumka addressing the crowd with a bullhorn and thousands of protesters keeping quiet to hear his words. From there, a peaceful march was made back to union hall where Trumka addressed the crowd more formally.

"Eleven million jobs have gone with the great recession. Nothing, nothing, is more important here at this moment," Trumka told a packed room at the Local 808 chapter of the IUE-CWA, which represents many of the workers at Whirlpool's Evansville plant.

He said national leaders have too often let jobs slip away with their policies and now it's up to them to undo the harm with a jobs program "to rebuild the foundation of our society and restore our middle class."










Recent National Issues Articles
A Year of fall and decline
December 28, 2010
David Swanson
2011: Year of resistance
December 22, 2010
David Swanson
Antiwar protest at White House
December 17, 2010
Pete Johnson
Transcending progressive discord
December 16, 2010
Robert C. Koehler
Richard Holbrooke's deathbed conversion
December 15, 2010
David Swanson
Obama wooing "Economic Royalists"
November 20, 2010
Norman Solomon
The Republican war on reality
October 29, 2010
Paul Rogat Loeb
Such is the peace process: Obama as a salesman
October 28, 2010
Ramzy Baroud
Rules of play
October 23, 2010
Robert C. Koehler
Leakers, Beware the Corporate Media
October 14, 2010
Ray McGovern
An open letter to Barack Obama
October 13, 2010
Paul Krassner
Stop the anonymous hit men: make shadowy campaign money the issue
October 12, 2010
Paul Rogat Loeb
Don't let the Russ Feingolds go down for the sins of the Blanche Lincolns
October 6, 2010
Paul Rogat Loeb
No, higher consciousness won't save us
September 23, 2010
Norman Solomon
Triumph of the Money Party!!! Warren's role downgraded, reports to Geithner
September 16, 2010
Michael Collins
Wall Street's Mercenaries Ride Donkeys
September 14, 2010
David Swanson
Right-wing Republicans vs. corporate Democrats vs. progressive populists
September 10, 2010
Norman Solomon
Five years and still drowning: The New Orleans CNN would never show you
August 25, 2010
Greg Palast
See something, say something
August 19, 2010
James Hanson
An honest look at Obama's first year
August 9, 2010
David Swanson
Let's give country reason to celebrate
August 9, 2010
Rev. Jesse Jackson
Revenge of the weeds
July 15, 2010
Robert C. Koehler
Holding Psychologists accountable for Torture
July 8, 2010
Terry Lodge
Confronting rendition to torture in North Carolina
July 7, 2010
Clare Hanrahan, WarIsACrime.org
Witnessing against torture: Why we must act
June 23, 2010
Kathy Kelly, WarIsACrime.org
An easy way to dramatically change Congress
June 22, 2010
David Swanson
Ten suggestions for effective activism
June 18, 2010
Paul Rogat Loeb
Inauguration Day 2013
June 15, 2010
Ted Sylvester
California's Prop. 14: A bad deal for democracy
June 6, 2010
Norman Solomon
The learning curve of peace
May 25, 2010
Robert C. Koehler
U.S. laws rated worst value per dollar
May 23, 2010
David Swanson
Getting smart about stupid communication
May 17, 2010
David Swanson
Chevron's "crude" attempt to suppress free speech
May 16, 2010
Bill Moyers and Michael Winship
Afghan escalation funding: More war, fewer jobs, poor excuses
May 11, 2010
David Swanson
Kagan in context: Shafting progressive values
May 10, 2010
Norman Solomon
12 fresh angles on the Gulf Coast oil spill, neatly packaged
May 3, 2010
Tod Brilliant
Massey and Goldman under criminal investigation
May 1, 2010
David Swanson
50 years later the struggle continues
April 29, 2010
Saul Landau
Iran a Threat? I Mean, Really?
April 27, 2010
Ray McGovern
Investigate the case of Mumia Abu-Jamal
April 25, 2010
Dr. Suzanne Ross (917) 584-2135 • Pam Africa (215) 476-8812
A mad Tea Party
April 23, 2010
Helen Werner Cox and John Werner Cox
Journey of a citizen
April 22, 2010
Robert C. Koehler
Who let the Blue Dogs out?
April 21, 2010
Norman Solomon
Our national epidemic of violence
April 21, 2010
David Swanson
Tea Party and rail discussion
April 17, 2010
Bob Fitrakis and Harvey Wasserman
Mines have spurned safety for too long
April 16, 2010
Rev. Jesse L. Jackson Sr.
Kucinich on assassinations and upcoming war funding vote
April 16, 2010
David Swanson
Yeah, well you finally stopped getting mad
April 15, 2010
David Swanson
Peace activists extend an olive branch to the Tea Party to talk about war
April 14, 2010
Medea Benjamin
Corporatocracy and its discontents
April 13, 2010
David Swanson
Our national epidemic of violence
April 13, 2010
David Swanson
How the corporations broke Ralph Nader and America, too
April 8, 2010
Chris Hedges
Citizens united against Citizens United
March 27, 2010
David Swanson
Frank Olson, Enemy Combatant
March 26, 2010
David Swanson
Lies, damn lies, and the media
March 23, 2010
David Swanson
United States Hypocrisy Knows No Rationale - take it to the UN
March 21, 2010
Jim Miles
'Soul Of A Citizen' excerpt: taking money out of politics: a grassroots effort for clean elections
March 20, 2010
Paul Rogat Loeb
John Yoo: a president can nuke the United States
March 20, 2010
David Swanson
The GITMO distraction
March 18, 2010
Robert C. Koehler
How the Democrats can reclaim the youth vote
March 17, 2010
Paul Rogat Loeb
I'm Down With Dennis
March 15, 2010
david swanson
Bob Fitrakis and Harvey Wasserman on WCRS Radio
March 13, 2010
Tom Over
Dear Eric Holder: Try accused criminals in courts of law
March 11, 2010
The Robert Jackson Steering Committee
Jay Bybee questioned as prelude to prosecution
March 6, 2010
David Swanson
Whirlpool in Evansville
March 5, 2010
Jason Perlman, Communications Director, Ohio AFL-CIO
Paradise lost
March 5, 2010
Robert C. Koehler
Does DOJ agree with Yoo on testicles, villages, and nukes?
February 27, 2010
David Swanson
Pre-partisan America, 1789-1801
February 25, 2010
David Swanson
Yoo, Bybee, and disinformation
February 21, 2010
David Swanson
Activists protest Dr. Larry James and torture at Wright State
February 9, 2010
Pete Johnson
Feb. 6 Statement by Leonard Peltier
February 7, 2010
Leonard Peltier
Kvetcher in the Rye
February 5, 2010
Greg Palast
On war, conformity, the Democratic Party and progressive possibilities
February 5, 2010
Norman Solomon
Top 10 problems with America assassinating Americans
February 5, 2010
David Swanson
Blocking war funding just got easier
February 4, 2010
David Swanson
Congressman Payne: I won't oppose war money because Obama's president
February 1, 2010
David Swanson
The source of corporate power
January 30, 2010
Robert C. Koehler
Fixing a bad Supreme Court decision
January 29, 2010
Joel S. Hirschhorn
Give to the Congress information of the State of the Union
January 29, 2010
David Swanson
Gone a week and you trash the country
January 28, 2010
David Swanson
Et Tu, ACLU?
January 27, 2010
Bob Fitrakis & Harvey Wasserman
PUBLIC INTEREST GROUPS CONDEMN SUPREME COURT'S RULING ON CORPORATE MONEY IN ELECTIONS
January 22, 2010
David Swanson
A fable for our time
January 15, 2010
David Swanson
Northwest Bomb Plot 'Oddities'
January 13, 2010
Lori Price
Good News: Will We Hear It?
January 11, 2010
David Swanson
Calling the bluff in the Conference Committee
January 11, 2010
Paul Rogat Loeb
Naked empire
January 7, 2010
Saul Landau
Recommended new year's resolutions for all Americans
January 1, 2010
Bruce Arnold
Are Presidents Afraid of the CIA?
January 1, 2010
Ray McGovern
Read National Issues Articles by Year:
2013 2012 2011 2010 2009 2008 2007 2006 2005 2004 2003 2002 2001 2000