Departments


New York May Day protests draw thousands
by Gerard Flynn
May 3, 2012

Although not attracting the crowd many Occupy Wall Street activists had hoped for, May Day marches drew tens of thousands of demonstrators across the New York City and surrouding boroughs, demanding social change and higher taxes for the wealthiest in American society.

Throughout the day, Occupy Wall Street activists joined by unions formed groups of between 30 and 50 activists at various corporate locations throughout the city, including the offices of Chase, Pziser, and HSBC.

Outside the headquarters of Fox News in midtown Manhattan demonstrators pounded the sidewalks on a wet and gloomy morning, where they urged Rupert Murdoch's News Corporation (parent company of Fox News) to pay more taxes.

"They got bailed out. We got sold out," circling protestors shouted in protest at bank-rescue plans, while AIDS activists from Vocal New York blasted Murdock's New York Post for pushing austerity measures that hurt HIV patients and promoting tax cuts for the rich.

Former Republican governor of New York State, George Pataki, who was leaving the building as protests continued, called the behavior of the Occupy Wall Street movement "appalling but not surprising."

"They are spoiled and ignorant and destructive of our society and they should get a job and pay taxes to assist those in need of help," he said.

In Bryant Park, boisterous May Day celebrations continued among hundreds of mostly Occupy Wall Street revellers until the afternoon, before joining thousands at an evening rally in Union Square, on the Lower East Side of Manhattan.

Despite over 30 arrests, May Day most protests went by peacefully. However, in Lower Manhattan "blac block" members rampaged through through the streets, pounding on car windows, before being coralled by pursuing police on scooters into Washington Square Park, where one protestor was left on the ground with a bloody nose, following a brief confrontation with cops.

En route to a final protest at Bowling Green near the southern most tip of Manhattan, one self-described blac-block member, who asked not to be named, called the Occupy Wall Street movement the "60s of our time."

"Everyone keeps saying we don't have a message. We do. Stop f-king with us. Stop destroying the world. It's time to make a stance and stop taking sh-t," he said.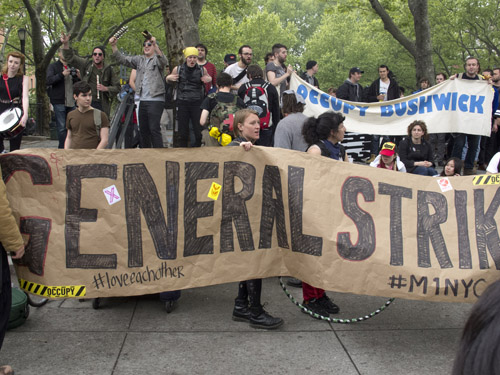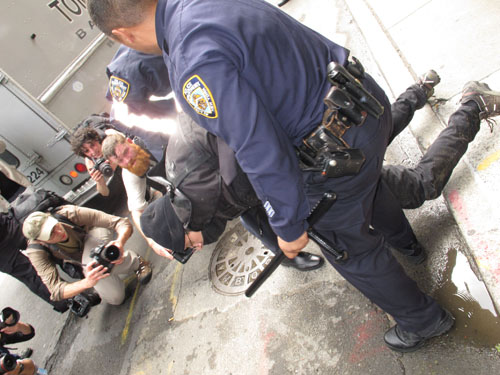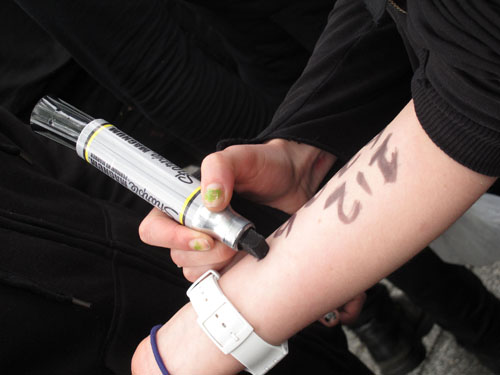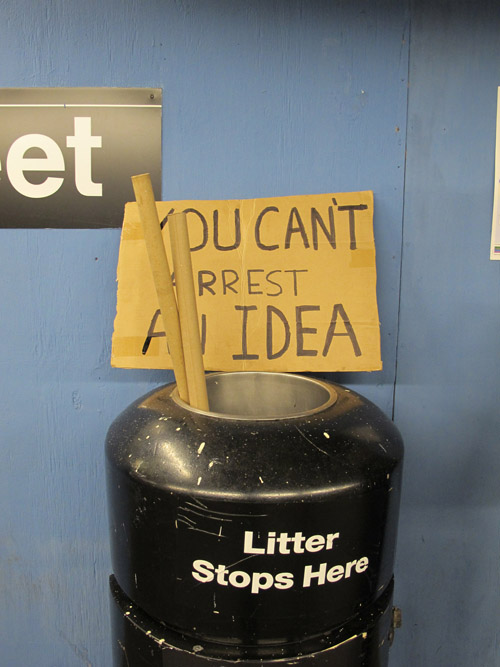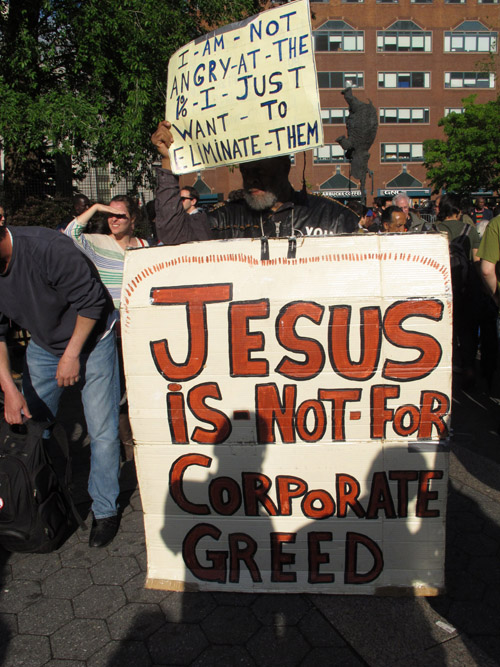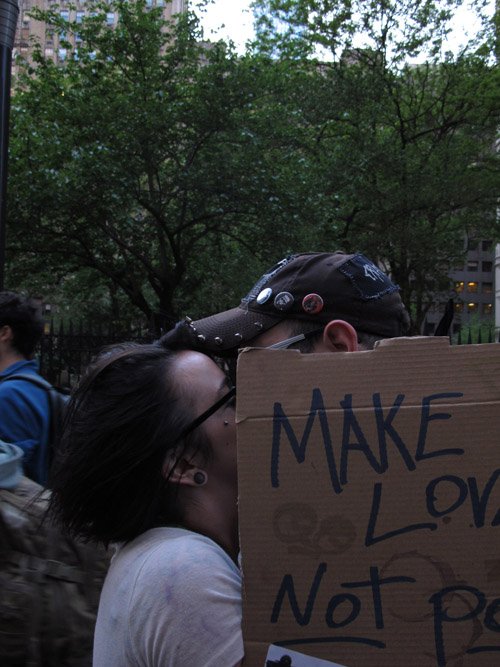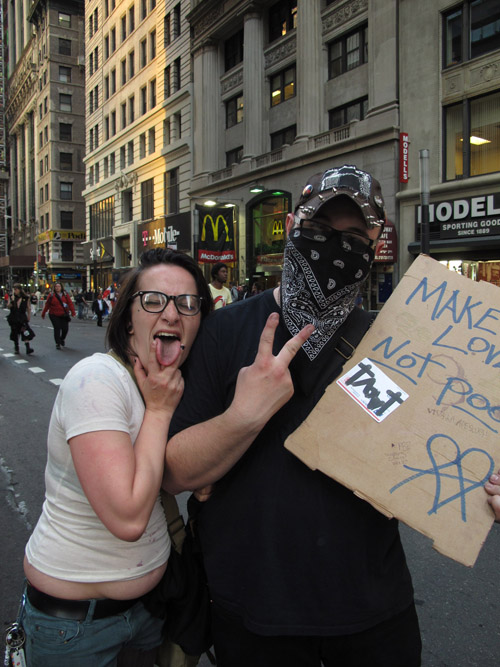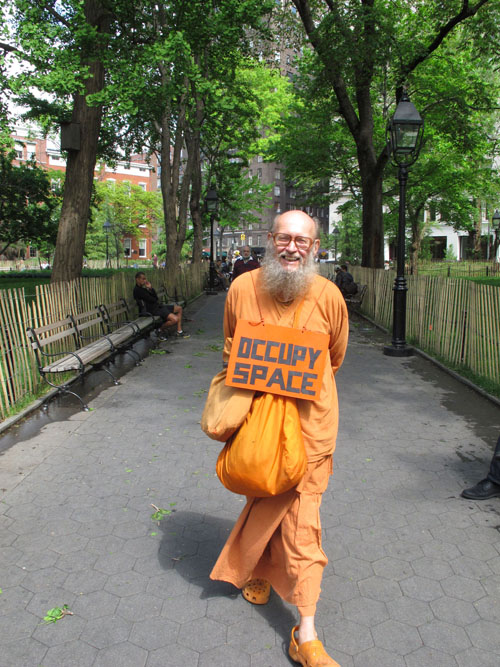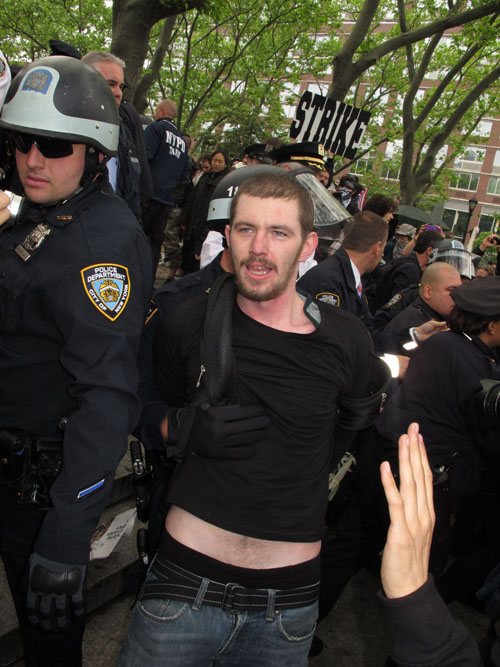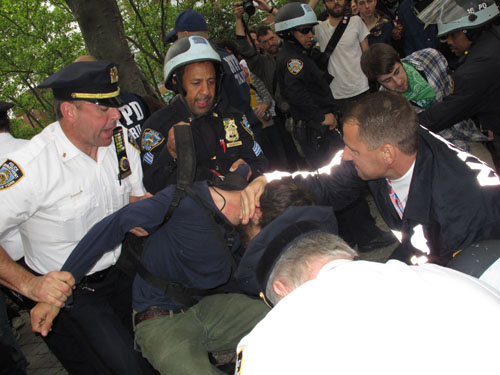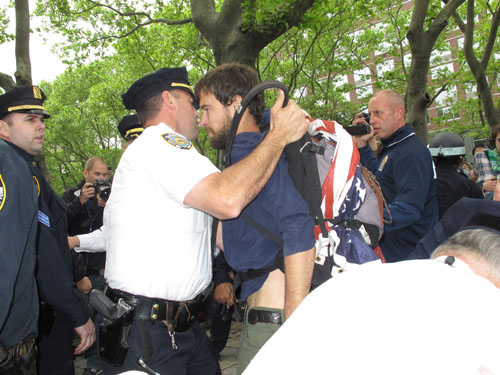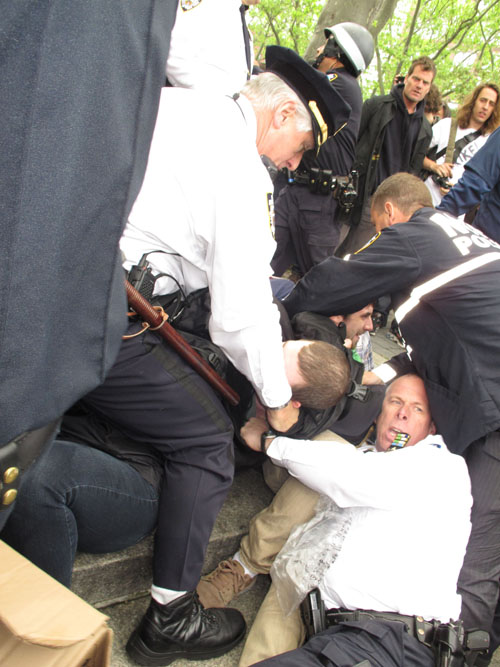 Recent National Issues Articles
An alternative "one tax" solution
December 29, 2012
Jack Rasmus
The turmoil in Washington over the "fiscal cliff" is a distraction from other crises besetting the nation
December 6, 2012
Bob Sheak
Nothing 'balanced' about focusing on cuts for vulnerable Americans
December 6, 2012
Rev. Jesse Jackson
Backward Ho!
December 5, 2012
David Swanson
Cincinnati passes resolution requiring GE food labeling
December 2, 2012
EcoWatch Journal
Kickbacks exploit inmates' families
November 27, 2012
Rev. Jesse Jackson
Free Press cartoonist nominated for Pulitzer Prize
November 15, 2012
Free Press staff
Is impeachment gone for good?
November 14, 2012
David Swanson
Armistice Day in the M.I.C.
November 12, 2012
David Swanson
The economic consequences of Mr. Obama
November 2, 2012
Fadhel Kaboub
The indefinite detention of the progressive voter
November 2, 2012
Sam Husseini
The Future of Politics
October 26, 2012
Robert C. Koehler
Rev. Jesse Jackson and 12 workers arrested at Sensata Plant protest in Freeport, Illinois
October 24, 2012
Michael L. Peery
Employees of Romney family's secret bank tied to fraud, money laundering, drug cartels and the CIA
October 20, 2012
Gerry Bello and Bob Fitrakis
The Coddling of the Corporate Rich and the Big Corporations
October 9, 2012
Bob Sheak
George Edwards---An Activist Every Day! 3/24/18---10/5/12
October 9, 2012
Bruce Bostick
Bob Fitrakis speaks at "The Other America" 50th anniversary event
October 5, 2012
Bob Fitrakis
Obamobedience
August 29, 2012
David Swanson
Entrepreneur in empire state saves world economy
August 24, 2012
David Swanson
Teach our children well
August 19, 2012
Christopher Bifani
Extreme economic inequality harms the U.S.
August 7, 2012
Joe Sommer
Community in the Crosshairs
August 3, 2012
Robert C. Koehler
Aurora massacre
July 21, 2012
David Rovics
The Geopolitics of Compassion
July 20, 2012
Robert C. Koehler
Thanks Woody - We're standing on your sholders
July 16, 2012
Bruce Bostick
The Supreme Court ruling on the Patient Protection and Affordable Care Act
July 12, 2012
Albert A. Gabel
When shit just gets you down--this is what Debs said!
July 11, 2012
Bruce Bostick (Proud Union Steelworker)
The end is near
July 9, 2012
David Swanson
Oh say, maybe we can't see: Another 4th of July
July 5, 2012
David Swanson
"Buddy, please put your hood."
June 11, 2012
Buddy Bell
The spread of sacrifice zones
June 11, 2012
David Swanson
The almost-scoop on Nixon's 'treason'
June 9, 2012
Robert Parry
Walker, most other Repubs reportedly survive Wisconsin recall elections
June 6, 2012
Brad Friedman
Florida Voter Purge: 2012 Edition NEW DATA: Elections supervisors throughout Florida confirm U.S. citizens improperly included In voter purge
June 5, 2012
Josh Israel and Adam Peck, Think Progress
Dave Rovics - new song and blog
May 25, 2012
Dave Rovics
Bank the Knife
May 21, 2012
Dave Lippman
The moral arc of the universe
May 11, 2012
Robert C. Koehler
Cece McDonald and trans prisoners of color in the prison industrial complex
May 7, 2012
Genelle Denzin
AIDS demonstration in New York City
May 3, 2012
Gerard Flynn
Labor not loyalty on May 1
May 3, 2012
David Swanson
New song/video about ALEC (American Legislative Exchange Council)
May 3, 2012
Dave Lippman
New York May Day protests draw thousands
May 3, 2012
Gerard Flynn
State of Fear
May 1, 2012
Robert C. Koehler
Unite against the war on women
April 23, 2012
Autumn Dlugoz
Report from the ground at Occupy Wall Street
April 23, 2012
Gerard Flynn
Heard the one about the peace activist on the Titanic?
April 19, 2012
David Swanson
Citizens protest for tax justice outside Columbus office of Senator Rob Portman
April 18, 2012
Tom Over
The statues in our public spaces lie
April 14, 2012
David Swanson
The rich are different from you and me – they pay less taxes
April 12, 2012
Bill Moyers and Michael Winship
Needed: Better prepared students, not inflated grades
April 8, 2012
Robert Letcher
Numbing numbers explain US frog revolution
April 8, 2012
Joel S. Hirschhorn
The Supremes: What on Earth are they thinking?
March 29, 2012
Kurt Bateman, Single Payer Action Network-Ohio
The National Occupation of Washington, DC Seeks to Lift Occupy to New Levels With Powerful Educational Programs
March 27, 2012
Kevin Zeese
Why George Zimmerman must be arrested and tried for the murder of Trayvon Martin
March 26, 2012
Andy Ostroy
Cops beat our cameraman ZD Roberts
March 19, 2012
Greg Palast
President Rick Santorum
March 3, 2012
Saul Landau
Moderate Republicans need to take whacks
March 2, 2012
Christopher Bifani
Un-cheating justice: Two years left to prosecute Bush
March 1, 2012
David Swanson
Why students are hunger striking in Virginia
February 26, 2012
David Swanson
Where is Conyers with impeachment threats against President for Iran attack now?
February 24, 2012
Ralph Lopez
Chat I just had with Homeland Security
February 24, 2012
David Swanson
A crazy Republican attack that Obama himself agrees with
February 20, 2012
David Swanson
How Newt Gingrich saved the military industrial complex
February 9, 2012
David Swanson
The Betrayal of the Nobel Peace Prize
February 7, 2012
David Swanson
A "conservative solution to inequality" or, what they really think!
January 31, 2012
Bruce Bostick
Congressional Candidate Mary Jo Kilroy defends record after 'mic check' from Occupy Columbus
January 27, 2012
Tom Over
Constitutional Amendment to create public financing introduced by Kucinich
January 23, 2012
David Swanson
Corporations Are Not People. Money Is Not Speech.
January 20, 2012
Tom Over
2012's civil liberties apocalypse has already happened
January 19, 2012
Bob Fitrakis & Harvey Wasserman
Corporate personhood cannot withstand organized persons
January 18, 2012
David Swanson
Steve Cannon, a blind poet and arts patron faces eviction
January 18, 2012
Gerard Flynn
American Electric Power Target of Symbolic Citizen's Arrest
January 10, 2012
Tom Over
The New South Is Legacy Of Martin Luther King
January 10, 2012
Rev. Jesse Jackson, Sr.
"Retirement Heist" shows hows they stole the pensions
January 10, 2012
Bruce Bostick
Corporate Personhood worse, ending it easier than you think
January 9, 2012
David Swanson
My New Year's resolutions
January 2, 2012
David Swanson
Read National Issues Articles by Year:
2013 2012 2011 2010 2009 2008 2007 2006 2005 2004 2003 2002 2001 2000