Departments


Activists protest Dr. Larry James and torture at Wright State
by Pete Johnson
February 9, 2010

I recently joined a group of activists who traveled across the state to protest Dr. Larry James' "Psychology of Terrorism Executive Workshop" at Wright State University in Dayton, Ohio. Col. Larry James was Chief Psychologist of the Joint Intelligence Group and a senior member of the Behavioral Science Consultation Team (BSCT), from 2003 to 2007. For most of the critical torture years of 2003 and 2004, James reported to Major General Geoffrey Miller. Miller was transferred from Guantanamo to Iraq to take over administration of the Abu Ghraib prison in Baghdad, from which stories and pictures of U.S. torture emerged in 2004. Send Comments

Subsequent to his complicity in prisoner abuse, James wrote a book Fixing Hell: An Army Psychologist Confronts Abu Ghraib. In his book, James describes witnessing inappropriate behavior during an interrogation, but instead of interfering or reporting the abuse, he lets it play out: "I heard lots of yelling, screaming, and furniture being thrown around.  I saw Luther and three MPs wrestling with a detainee on the floor.  It was an awful sight.  I wanted to run back to my room and wash my eyes out with bleach.  The detainee was naked except for the pink panties I had seen hanging on the door earlier.  He also had lipstick and a wig on.  The four men were holding the prisoner down and trying to outfit him with the matching pink nightgown, but he was fighting hard.  My first instinct was to rush in and start barking orders at the men, demanding they stop this ridiculous and abusive wrestling match.  But I managed to quell that urge and wait.  I opened my thermos, poured a cup of coffee, and watched the episode play out, hoping it would take a better turn and not wanting to interfere without good reason, even if this was a terrible scene.  I waited several minutes, but with no good end in sight I had to act."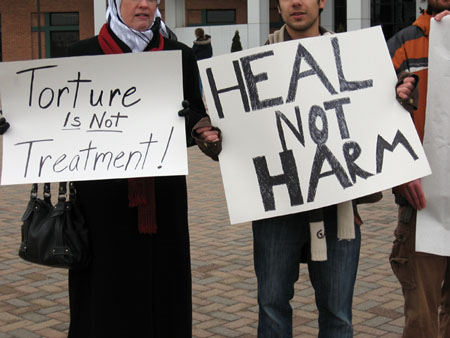 Among many startling admissions, James states that "It was clear to me that I was no longer a doctor but rather a combatant with the sole purpose of helping the Army kill or capture the enemy." Dr. Trudy Bond lodged a complaint against him with the Louisiana State Board of Examiners of Psychologists (LSBEP) which was dismissed. Upon retiring from the Army, James was not licensed as a Psychologist in Ohio, but was granted a license. Concerned citizens plan to lodge additional complaints in Ohio in order to challenge his license.

At Wright State, we held signs saying "Larry James, Torture Doctor" , "Hold Larry James Accountable" "Heal not Harm" and "Torture is not Treatment". Although our number was small, we did attract the campus police. In what was likely to have been a classic good cop/bad cop routine, a young campus policeman approached our group and asked us to disperse. We were told that campus police had received complaints. (I hope so!) We informed him that we had a right to stay as long as we were non threatening and not blocking access. He then informed us that we were breaking no laws, but once he ordered us to disperse and we refused, then we would be breaking the law and could be arrested. Soon, the good cop, a sergeant, showed up to inform us that we were within our rights and allowed the protest to continue.

Our small group of protesters was approached by several students and University employees. Most were unaware that the Dean of the Department of Psychology was named Larry James, and those who did know his name were unaware of involvement in the day to day operations of interrogations at Guantanamo and Abu Ghraib. Two students were very much aware of this travesty and were very appreciative of our presence on campus, promising to join the effort to challenge his license as a Psychologist in the State of Ohio.

President Obama appears to have decided to sweep the clear violations of American and International law regarding torture under the rug. He has chosen to look forward, not backwards, thereby leaving the blueprint for torture on the table for future Presidents to deal with. Dr. James workshop further legitimizes the use of torture. The intended audiences for this Executive Workshop are law enforcement officials, members of the Department of Homeland Security, DOD, and the Border Patrol.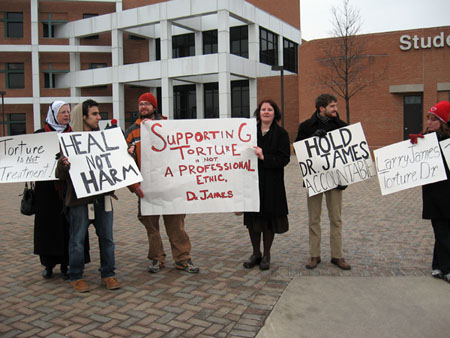 The stated goals of the workshop are:
Define Psychological Terrorism
Identify Types of Psychological Terrorism
Discuss the role of the media in counter terrorism efforts
Identify how demographics are used to recruit teenage terrorists
Understand the psychological make-up of the suicide bomber
Discuss strategies to prevent psychological terrorism

Those of us who continue to feel outrage that our government condones torture must take action against legitimizing it's use. To support our efforts against torture, join us at When Healers Harm or email the Columbus Free Press (truth@freepress.org).










Recent National Issues Articles
A Year of fall and decline
December 28, 2010
David Swanson
2011: Year of resistance
December 22, 2010
David Swanson
Antiwar protest at White House
December 17, 2010
Pete Johnson
Transcending progressive discord
December 16, 2010
Robert C. Koehler
Richard Holbrooke's deathbed conversion
December 15, 2010
David Swanson
Obama wooing "Economic Royalists"
November 20, 2010
Norman Solomon
The Republican war on reality
October 29, 2010
Paul Rogat Loeb
Such is the peace process: Obama as a salesman
October 28, 2010
Ramzy Baroud
Rules of play
October 23, 2010
Robert C. Koehler
Leakers, Beware the Corporate Media
October 14, 2010
Ray McGovern
An open letter to Barack Obama
October 13, 2010
Paul Krassner
Stop the anonymous hit men: make shadowy campaign money the issue
October 12, 2010
Paul Rogat Loeb
Don't let the Russ Feingolds go down for the sins of the Blanche Lincolns
October 6, 2010
Paul Rogat Loeb
No, higher consciousness won't save us
September 23, 2010
Norman Solomon
Triumph of the Money Party!!! Warren's role downgraded, reports to Geithner
September 16, 2010
Michael Collins
Wall Street's Mercenaries Ride Donkeys
September 14, 2010
David Swanson
Right-wing Republicans vs. corporate Democrats vs. progressive populists
September 10, 2010
Norman Solomon
Five years and still drowning: The New Orleans CNN would never show you
August 25, 2010
Greg Palast
See something, say something
August 19, 2010
James Hanson
An honest look at Obama's first year
August 9, 2010
David Swanson
Let's give country reason to celebrate
August 9, 2010
Rev. Jesse Jackson
Revenge of the weeds
July 15, 2010
Robert C. Koehler
Holding Psychologists accountable for Torture
July 8, 2010
Terry Lodge
Confronting rendition to torture in North Carolina
July 7, 2010
Clare Hanrahan, WarIsACrime.org
Witnessing against torture: Why we must act
June 23, 2010
Kathy Kelly, WarIsACrime.org
An easy way to dramatically change Congress
June 22, 2010
David Swanson
Ten suggestions for effective activism
June 18, 2010
Paul Rogat Loeb
Inauguration Day 2013
June 15, 2010
Ted Sylvester
California's Prop. 14: A bad deal for democracy
June 6, 2010
Norman Solomon
The learning curve of peace
May 25, 2010
Robert C. Koehler
U.S. laws rated worst value per dollar
May 23, 2010
David Swanson
Getting smart about stupid communication
May 17, 2010
David Swanson
Chevron's "crude" attempt to suppress free speech
May 16, 2010
Bill Moyers and Michael Winship
Afghan escalation funding: More war, fewer jobs, poor excuses
May 11, 2010
David Swanson
Kagan in context: Shafting progressive values
May 10, 2010
Norman Solomon
12 fresh angles on the Gulf Coast oil spill, neatly packaged
May 3, 2010
Tod Brilliant
Massey and Goldman under criminal investigation
May 1, 2010
David Swanson
50 years later the struggle continues
April 29, 2010
Saul Landau
Iran a Threat? I Mean, Really?
April 27, 2010
Ray McGovern
Investigate the case of Mumia Abu-Jamal
April 25, 2010
Dr. Suzanne Ross (917) 584-2135 • Pam Africa (215) 476-8812
A mad Tea Party
April 23, 2010
Helen Werner Cox and John Werner Cox
Journey of a citizen
April 22, 2010
Robert C. Koehler
Who let the Blue Dogs out?
April 21, 2010
Norman Solomon
Our national epidemic of violence
April 21, 2010
David Swanson
Tea Party and rail discussion
April 17, 2010
Bob Fitrakis and Harvey Wasserman
Mines have spurned safety for too long
April 16, 2010
Rev. Jesse L. Jackson Sr.
Kucinich on assassinations and upcoming war funding vote
April 16, 2010
David Swanson
Yeah, well you finally stopped getting mad
April 15, 2010
David Swanson
Peace activists extend an olive branch to the Tea Party to talk about war
April 14, 2010
Medea Benjamin
Corporatocracy and its discontents
April 13, 2010
David Swanson
Our national epidemic of violence
April 13, 2010
David Swanson
How the corporations broke Ralph Nader and America, too
April 8, 2010
Chris Hedges
Citizens united against Citizens United
March 27, 2010
David Swanson
Frank Olson, Enemy Combatant
March 26, 2010
David Swanson
Lies, damn lies, and the media
March 23, 2010
David Swanson
United States Hypocrisy Knows No Rationale - take it to the UN
March 21, 2010
Jim Miles
'Soul Of A Citizen' excerpt: taking money out of politics: a grassroots effort for clean elections
March 20, 2010
Paul Rogat Loeb
John Yoo: a president can nuke the United States
March 20, 2010
David Swanson
The GITMO distraction
March 18, 2010
Robert C. Koehler
How the Democrats can reclaim the youth vote
March 17, 2010
Paul Rogat Loeb
I'm Down With Dennis
March 15, 2010
david swanson
Bob Fitrakis and Harvey Wasserman on WCRS Radio
March 13, 2010
Tom Over
Dear Eric Holder: Try accused criminals in courts of law
March 11, 2010
The Robert Jackson Steering Committee
Jay Bybee questioned as prelude to prosecution
March 6, 2010
David Swanson
Whirlpool in Evansville
March 5, 2010
Jason Perlman, Communications Director, Ohio AFL-CIO
Paradise lost
March 5, 2010
Robert C. Koehler
Does DOJ agree with Yoo on testicles, villages, and nukes?
February 27, 2010
David Swanson
Pre-partisan America, 1789-1801
February 25, 2010
David Swanson
Yoo, Bybee, and disinformation
February 21, 2010
David Swanson
Activists protest Dr. Larry James and torture at Wright State
February 9, 2010
Pete Johnson
Feb. 6 Statement by Leonard Peltier
February 7, 2010
Leonard Peltier
Kvetcher in the Rye
February 5, 2010
Greg Palast
On war, conformity, the Democratic Party and progressive possibilities
February 5, 2010
Norman Solomon
Top 10 problems with America assassinating Americans
February 5, 2010
David Swanson
Blocking war funding just got easier
February 4, 2010
David Swanson
Congressman Payne: I won't oppose war money because Obama's president
February 1, 2010
David Swanson
The source of corporate power
January 30, 2010
Robert C. Koehler
Fixing a bad Supreme Court decision
January 29, 2010
Joel S. Hirschhorn
Give to the Congress information of the State of the Union
January 29, 2010
David Swanson
Gone a week and you trash the country
January 28, 2010
David Swanson
Et Tu, ACLU?
January 27, 2010
Bob Fitrakis & Harvey Wasserman
PUBLIC INTEREST GROUPS CONDEMN SUPREME COURT'S RULING ON CORPORATE MONEY IN ELECTIONS
January 22, 2010
David Swanson
A fable for our time
January 15, 2010
David Swanson
Northwest Bomb Plot 'Oddities'
January 13, 2010
Lori Price
Good News: Will We Hear It?
January 11, 2010
David Swanson
Calling the bluff in the Conference Committee
January 11, 2010
Paul Rogat Loeb
Naked empire
January 7, 2010
Saul Landau
Recommended new year's resolutions for all Americans
January 1, 2010
Bruce Arnold
Are Presidents Afraid of the CIA?
January 1, 2010
Ray McGovern
Read National Issues Articles by Year:
2013 2012 2011 2010 2009 2008 2007 2006 2005 2004 2003 2002 2001 2000