Reflections
on
Black
History
______

Part 49
Duke Ellington

by Thomas C. Fleming, Aug 26, 1998

In 1930, when my job as a cook for the Southern Pacific first brought me into Chicago, I bought a newspaper in the depot as usual, and discovered that Duke Ellington was appearing on the stage of the Oriental Theater downtown. The Oriental was one of a chain of movie and stage show houses that one found through the Middle West.
Duke Ellington during his years
at the Cotton Club in Harlem, circa 1930.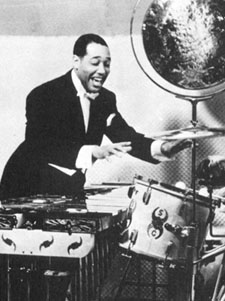 We in the West had been listening to Ellington's broadcasts about three nights a week from the Cotton Club in Harlem, where he gained an international reputation. Ted Husing, a famous announcer for CBS, announced the shows from the club. He was white; no black person had yet been allowed to break into broadcasting. The show included dancers, vocalists and the band.

So I decided, this I must see. The landlady gave me directions for the streetcar downtown. I sat through three shows at the Oriental, where I listened to the music and watched the contortions of Earl "Snake Hips" Tucker, who was a part of the act, along with vocalist Ivie Anderson, who had just joined the band.

I first heard about Ellington in the late 1920s from a friend of mine, Wilton Johnson, a saxophonist who had played with Lionel Hampton's band. He said Ellington was the best he had ever heard. I listened to one of his records and I liked it. After that, I bought only his records. There was a new release every month. He was not only a great composer, but the head of the greatest jazz band that has ever been assembled.

Ellington first played Oakland around 1931, performing for whites only at Sweet's Ballroom. The next night, the band played for blacks at the Oakland Auditorium. This was before Bill Sweet, owner and operator of the ballroom, decided he would have a two-night session for entertainers who came to Oakland, based on racial lines. The first night would be for whites only, and the second night for blacks.

Sweet's was the mecca for jazz devotees in Oakland. Ellington came back every year for about a decade, until the early 1940s, then not quite so often during the war years. After the war, he never came to Oakland again, because he would always play across the bay in San Francisco.

I went to hear him on his first visit to Oakland, and after the show, I was introduced to him by a man I knew named Tex Allen. Then every time Ellington came after that, I'd go up and talk to him. I called him maestro. And he was always very gracious; he met people very easily. The Duke was a sharp dresser. That's how he got his nickname, from the other students when he was at high school in Washington.

I talked to just about everybody in the band -- Barney Bigard, the great clarinetist; Johnny Hodges, Harry Carney, Cootie Williams, who did all that growl stuff on the trumpet; and later Ben Webster, the tenor saxophonist.

Ellington was a star already. He'd made a couple of films in Hollywood before he ever visited Oakland. The Cotton Club had the biggest and best floor show in all the United States, and Ellington was the one who put it on the map, starting in 1927. It was filled up with white people every night.

He was such a big hit there that they put him in the Ziegfeld Follies; he was doubling in both places. That's how much they thought of him in New York. And the rest of the nation followed suit. Because whatever New York did in those days, everybody else wanted to do it.

The next time Ellington came through Oakland, about a year later, he had his father with him, and I got to meet him. He called his father Uncle Ed, and so did everybody in the band. The old man seemed all excited, and didn't know what to make of it. He was retired then, but in his younger life, he had worked for the Department of the Navy as a draftsman. And whenever the White House needed an extra butler, they would call him to work there.

I guess Ellington wanted his father to see the United States, which I thought was wonderful. He remained close to his family all of his life. After he became successful, he moved them from Washington, DC, where he was born, to New York -- his mother, father, and his younger sister Ruth.

Everybody thought he was best; I don't care what their color was. One thing that made him great was that the men stayed with him longer than they did with any other bands. It seemed that everyone wanted to play with Ellington, because he was unique. His compositions and arrangements were so unusual, and he let the guys in his band express themselves freely; he encouraged what he saw, because he had the greatest bunch of soloists of any band. And he paid better salaries than anybody else.

The leading musicians were handled by booking agencies that dealt only with well-known clubs. Most of the black clubs weren't known outside of the black neighborhoods. Most of the nightclubs where Duke played were segregated like the Cotton Club; black weren't admitted as customers.

I don't think that bothered Duke very much, because that's the way it was all over the United States then. He played music as a career, to earn a living. It was always the white promoters that brought him in town. So what could he do? He wanted to work. And I don't think the audience thought about it. They wanted to hear this man, that's all.

That was true for all the top black musicians of the time -- Louie Armstrong, Count Basie, Jimmy Lunceford, Earl Hines, Billy Eckstine and others. Most of the places where they played were clubs operated for and by white people. That's where money was.
---
Copyright &copy 1998 by Thomas Fleming. Email.
At 90, Fleming continues to write each week for the Sun-Reporter, San Francisco's African American weekly, which he co-founded in 1944. A 48-page book of his stories and photos from 1907-19 is available for $3, including postage, and a 90-minute cassette tape of his recollections of black life in Florida, Harlem and Chico from 1912-1926 is available for $5, including postage. Send mailing address or call 415-771-6279.
---
Fleming Biography
More Fleming articles
Back to Front Page