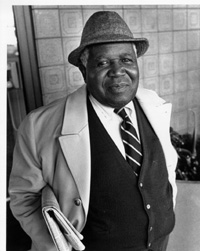 Thomas Fleming
Thomas Fleming, born in 1907, is the nation's oldest and longest-running black journalist. He continues to write each week for the Sun-Reporter, San Francisco's African American weekly, which he co-founded in 1944. In 1997 he received the Career Achievement Award from the Society of Professional Journalists of Northern California.
A 48-page book of his stories and photos from 1907-19 is available for $3 plus $1 postage from Max Millard, 1312 Jackson St., #21, San Francisco, CA 94109.
Millard worked closely with Fleming for two years at the Sun-Reporter, and later spent 100 hours interviewing him on tape, transcribing the material, doing the fact-checking, and blending it with Fleming's original writings. Fleming did the final editing, and all the words are his.
by Thomas C. Fleming -His biography

Part 86: Black Radio Entertainers - Feb 18, 2003

Part 85: International House - Dec 15, 1999
Part 84: The National Negro Congress of 1936 - Sep 22, 1999
Part 83: The Black Cabinet - Sep 8, 1999
Part 82: Lionel Hampton, King of the Vibes - Aug 18, 1999
Part 81: Black society in the '30s - Aug 4, 1999
Part 80: Black boxing champions - Jul 21, 1999
Part 79: Rebels in the NAACP - Jul 7, 1999
Part 78: A party for Jesse Owens - Jun 23, 1999
Part 77: Carlton B. Goodlett, champion of the people - Jun 2, 1999
Part 76: Black attorneys and California politics - May 19, 1999
Part 75: Blacks and the labor movement - Apr 28, 1999
Part 74: Italy invades Africa - Apr 14, 1999
Part 73: Entertainment during the Depression - Mar 31, 1999
Part 72: "Raincoat" Jones, black businessman extraordinaire - Mar 17, 1999
Part 71: Langston Hughes goes to Russia - Mar 3, 1999
Part 70: Working for the WPA - Feb 17, 1999
Part 69: Sargent Johnson and the bohemian life - Feb 3, 1999
Part 68: Surviving the Depression - Jan 20, 1999
Part 67: Black communists in the 1930s - Jan 6, 1999
Part 66: Langston Hughes comes west - Dec 23, 1998
Part 65: The Great Strike of 1934 - Dec 16, 1998
Part 64: Herbert Hoover and black Republicans - Dec 9, 1998
Part 63: A lynching in San Jose - Dec 2, 1998
Part 62: Enrolling in college - Nov 25, 1998
Part 61: Senator Billy Knowland - Nov 18, 1998
Part 60: Separate but equal - Nov 11, 1998
Part 59: Black fraternities and sororities - Nov 4, 1998
Part 58: Getting an education - Oct 28, 1998
Part 57: The Depression begins - Oct 21, 1998
Part 56: Getting by on the railroad - Oct 14, 1998
Part 55: A Different World - Oct 7, 1998
Part 54: An Incident in Reno - Sep 30, 1998
Part 53: Deadheading to Portland - Sep 23, 1998
Part 52: Return to L.A. - Sep 16, 1998
Part 51: Job Status on the Railroad - Sep 9, 1998
Part 50: Riding the Freights - Sep 2, 1998
Part 49: Duke Ellington - Aug 26, 1998
Part 48: On to Chicago - Aug 19, 1998
Part 47: C. L. Dellums and Mr. Bojangles - Aug 12, 1998
Part 46: The Glory Days of Travel - Aug 5, 1998
Part 45: Misadventures on the Railroad - Jul 29, 1998
Part 44: Phil Randolph and the Pullman Porters - Jul 22, 1998
Part 43: Racial Attitudes on the Railroad - Jul 15, 1998
Part 42: The San Joaquin Flyer - Jul 8, 1998
Part 41: Joining the Union - Jul 1, 1998
Part 40: Fourth Cook on a Railroad Diner - Jun 24, 1998
Part 39: The Southern Pacific - Jun 17, 1998
Part 38: Oakland, Where the Trains Stopped - Jun 10, 1998
Part 37: The Railroad Ferry - Jun 3, 1998
Part 36: Last Days on Shipboard - May 27, 1998
Part 35: Los Angeles Bound - May 20, 1998
Part 34: Ships of the World - May 13, 1998
Part 33: Stopover in Seattle - May 6, 1998
Part 32: On the S.S. Emma Alexander - Apr 29, 1998
Part 31: The Admiral Line - Apr 22, 1998
Part 30: Finding Work - Apr 15, 1998
Part 29: Back to the City - Apr 8, 1998
Part 28: Burned Out - Apr 1, 1998
Part 27: To the Future - Mar 25, 1998
Part 26: Job Discrimination in the '20s - Mar 18, 1998
Part 25: A Jack of All Trades - Mar 11, 1998
Part 24: My Mother, the Domestic - Mar 4, 1998
Part 23: The Color Line - Feb 25, 1998
Part 22: The Agricultural Life - Feb 18, 1998
Part 21: California's First Black Politicians - Feb 11, 1998
Part 20: A Potential Race Riot - Feb 4, 1998
Part 19: The Great Experiment - Jan 28, 1998
Part 18: Black Musicians and Early Radio - Jan 21, 1998
Part 17: The Day President Harding Died - Jan 14, 1998
Part 16: The Black Press in the 1920s - Jan 7, 1998
Part 15: The Klan Marches in California - Dec 31, 1997
Part 14: Good Times in Chico - Dec 24, 1997
Part 13: Jim Crow in 1920s California - Dec 17, 1997
Part 12: Race Relations in a Small California Town - Dec 10, 1997
Why the Black Press is Still Needed - Dec 3, 1997
Part 11: Black Life in Rural California - Nov 26, 1997
Part 10: West to California - Nov 19, 1997
Part 9: Goodbye to New York - Nov 12, 1997
Part 8: Mischief-Making in Harlem - Nov 5, 1997
Part 7: The Rise of Black Professionals - Oct 29, 1997
Part 6: Encounters with Fats Waller - Oct 22, 1997
Part 5: Marcus Garvey Comes to Harlem - Oct 15, 1997
Part 4: Boyhood in Harlem, 1916-19 - Oct 8, 1997
Part 3: A Stowaway to New York - Oct 1, 1997
Part 2: Black Entertainers on Vaudeville - Sep 24, 1997
Part 1: Jacksonville, 1907-15 - Sep 17, 1997