written by Victoria Parks & Paddy Shaffer, Free Press guest contributors
The Squire v. Geer case is more than just a mere election challenge lawsuit; the reliability of electronic voting was on trial last week in a small courtroom in Franklin County, Ohio. Voting rights activists see the issues before the court as going to the heart of democracy itself and whether or not election results obtained through the computerized voting machines can be trusted.

Former Franklin County Judge Carol Squire is contesting the victory of her opponent, Chris Geer in a challenge that has shed new light on the problems with e-voting machines.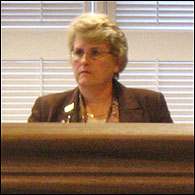 Photo of Karen Cotton, Chief Election
Officer, Franklin County BOE.
Photo by Paddy Shaffer.
Franklin County Board of Election's Chief Elections Officer Karen Cotton told the court that in an audit of the Squire/Geer race she was unable to balance the audit books, and could not state why. She said multiple staffers of both parties spent the previous Saturday, a full two months after the initial audit, conducting a hand recount of some books that were called into question in the Squire challenge. Cotton conceded that critics claim"our elections are all whacked up," referring to accusations about election irregularities. Percy Squire, representing his wife, Judge Squire, noted that the public count does not balance even after last Saturday's new audit.
In a December 2006, an independent audit conducted by voting rights activists trained in signature count audits, found that 86% of 206 Franklin County precincts would not balance with certified results. Most of these were off by significant margins when comparing poll book data and signatures to machine totals.
The Franklin County Board of Elections (BOE) has no plausible explanation for these discrepancies other than to say that their error rate is better than most counties in Ohio. In earlier testimony, Squire questioned the Republican Director of the Franklin County Board of Elections, Matt Damshroder, who stated that the BOE has no written policy to protect the poll books and has nothing in writing that he can show the court. Damshroder further testified that the BOE, in preparation for this litigation, did go through the books again and claimed they matched his earlier totals. This seems to contradict Cotton's later statements made under oath. The county prosecutor objected to Squire's request that Damshroder count poll books before the court. Damshroder said he would comply with the court ruling that he count poll books.
Vice President of ES&S Software Development Gary Weber's inability to answer a simple yes or no question drew audible laughter as Squire restated the same question before a stumbling witness and bemused Cuyahoga County magistrate Joel Sacco. Squire pressed the witness regarding upgrades of ES&S software being used in tandem last November. Squire brought into question whether or not the vendor's sequential Unity software upgrades as used together, were in fact legally certified at the time by the State of Ohio as required by law. Weber buckled under questioning on more than one occasion and contradicted himself to statements made in earlier deposition, according to attorney Squire.
Electronic elections expert and Harvard Fellow, Dr. Rebecca Mercuri parsed questions from assistant prosecutor Nick Soulas, carefully answering his technical questions. She concluded there is "significant evidence that there is no way to conclude that the vote tally as provided is correct." Mercuri reiterated that because of the lack of complete data sets, accurate vote totals could not be assumed. Mercuri referred to numerous "egregious disparities" in last November's election.
Squire asked "Based on your experience in elections as you testified earlier in Bush v Gore and in countless other political contests around the country, can you quantify to what extent you view the issues and problems that you encountered in this election versus what you've seen elsewhere?" Mercuri emphatically replied, that "the issues and problems I've seen in this election far outstrip any of the times and issues that I have seen, even those in Bush v Gore. In most of these instances there was one problem, or one set of problems. But in this, it cuts across the methodology used for the recount, the quantity of ballots that were supposed to have been counted, that were not counted, the methods by which things were impounded, the lack of certification of the voting system...it is so broad, it is beyond any type of experience I have had in it's nature of multiple types of things that seem to have blatant disregard of the admonitions of the rules and the procedures that were supposed to have been prescribed, including those things the county was warned about."
Mercuri also noted that the Board of Elections failed to count 3% of the absentee ballots. She testified that they only manually recounted 2072 absentee votes instead of the 2700 as legally required.
Records show many machines ran out of poll tape on Election Day. Independent auditors found several separated machine poll tape summary reports that were run more than three weeks after the election, and some were found with torn ends. This led auditors to question the accuracy of poll tape machine totals that were matched with a separated summary report. In a deposition, County Prosecutor Patrick Piccininni alluded to the fact that poll tape may have been "loaded backwards."
One Election Observer noted that some voting machines ran out of tape but continued recording votes on Election Day. This fact seems to contradict testimony from ES&S' account service manager Jerry Amick, who claimed under oath that the machines are designed to shut down when they run out of poll tape. Records indicate, that in fact numerous ES&S voting machines continued to operate on Election Day in Franklin County despite running out of poll tape. Questions persist that poll tapes may have been installed incorrectly or perhaps tore inside the machines. In which case, the machine would continue to operate despite not producing a paper trail. Amick also squarely laid the responsibility with the Secretary of State for making sure successive upgrades of the company's software are, in fact, certified for use in Ohio's elections.
In recent months successful hacking demonstrations by Princeton, Johns Hopkins University, and other independent software experts, have put electronic voting under public scrutiny and have raised eyebrows among public officials. Consensus among the experts has not been good for the vendors. Incidents as the electronic voting debacle in Florida's 13th district – where eighteen thousand votes were lost in November's midterms – have further chilled voter confidence in electronic voting. In Montgomery County, 30,000 undervotes were recorded in the Ohio U.S. Senate race between Sherrod Brown and Mike Dewine.
The implementation of the Help America Vote Act (HAVA) has proliferated this new voting technology into America's voting booths, creating new challenges to a system already in doubt, and leaving a dissatisfied and disenfranchised electorate feeling duped. HAVA is a bill pushed in 2002 by convicted former Ohio congressman Bob Ney with the assistance of convicted lobbyist Jack Abramoff. Now, the effects of HAVA are being tested in this case.
The ruling in this case could add to the ES&S woes as HAVA is implemented nationwide. ES&S has ties to Republican Senator Chuck Hagel. Hagel is a 2008 presidential candidate and a past owner of a predecessor voting machine company to ES&S. In recent months, the embattled electronic voting vendor has lost product liability lawsuits in other states as in New Mexico, Indiana and Illinois, a fact that looms large over this courtroom.
Electronic voting seems more questionable than ever as vendors pass on the substantial costs of software service contracts to taxpayers in already financially cash-strapped counties. Electronic voting also appears more vulnerable than ever at this time of slumping voter confidence. In the final analysis, the integrity of electronic voting continues to dog this industry — a private industry that holds so much power over a democratic process meant to be fully transparent and accountable to the public. The trial reconvenes Wednesday, February 28, to hear final arguments. Afterwards, Sacco's findings go before a three judge Appeals Court panel which will decide to accept or reject his recommendations. All Franklin County judges have been removed from the case to avoid the appearance of impropriety.