The percentage of uncounted votes in the allegedly "fraud free" 2006 Ohio election is actually higher than the fraud-ridden 2004 election, when the presidency was stolen here. A flawed voting process that allowed voters to be illegally turned away throughout the morning on Election Day may have cost the Dems at least two Congressional seats and a state auditor's seat.
The evidence comes directly from the official website of GOP Secretary of State J. Kenneth Blackwell
Blackwell website
. But researchers wishing to verify the number of uncounted ballots from that web site should do so immediately, as Blackwell is known for quickly deleting embarrassing evidence. In 2004, Blackwell deleted the evidence of excessive uncounted votes after the final results were tallied.
Despite Democratic victories in five of six statewide partisan offices, an analysis by the Free Press shows a statistically implausible shift of votes away from the Democratic Party statewide candidates on Election Day, contrasted with the results of the Columbus Dispatch's final poll. The Dispatch poll predicted Democratic gubernatorial candidate Ted Strickland winning with 67% of the vote. His actual percentage was 60%. The odds of this occurring are one in 604 million.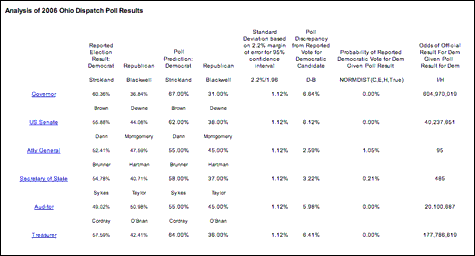 The final Columbus Dispatch poll wrapped up on Friday before the Tuesday election. This poll was based on 1541 registered Ohio voters, with a margin of error at plus/minus 2.2 percentage points and a 95% confidence interval. The Dispatch noted "The survey's 7-point variance from Democrat Ted Strickland's actual percentage total broke a string of five straight gubernatorial elections in which the poll exactly matched the victor's share of the vote."
The hotly disputed central Ohio Congressional race between incumbent Deborah Pryce, a close friend of George W. Bush, and challenger Mary Jo Kilroy, a Democratic Franklin County Commissioner has not been officially resolved as of today, November 14. The Franklin County Board of Elections has postponed the official recount of this race until after the November 18 Ohio State-Michigan football game. Another bitterly disputed Congressional race, on the outskirts of Cincinnati, also awaits a recount.
The major news leaking from the Blackwell web site is the stunning percentage of uncounted votes still outstanding throughout the state. When John Kerry conceded the day after the 2004 election, there were some 248,000 Ohio votes still uncounted, out of 5,722,443 officially cast. This was an astonishing 4.3% of the votes.
George W. Bush's alleged margin of victory at the time was about 136,000 votes, which dropped to about 118,000 after a fraudulent recount. More than two years later, more than 100,000 votes from Ohio's 2004 election remain uncounted including 93,000 machine rejected ballots.
Today, in 2006, the percentage of the official total vote that remains uncounted is actually higher than in 2004. According to Blackwell's web site, there are 211,656 absentee and provisional ballots still uncounted in 2006, out of 4,177,498 votes officially cast. This is 5.1% of the total official vote.
The high percentage of provisional ballots is due mainly to new strategies used by Blackwell and the GOP legislature to eliminate votes in targeted areas. In Franklin County (Columbus), which is now heavily Democratic, there were 14,462 provisional ballots---2.7% of total votes---cast in 2004. In 2006 the number soared to 20,679, a substantial jump constituting more than 6% of all voters, in an election in which fewer total votes were cast.
Provisional ballots are issued when poll workers challenge citizens' rights to a regular ballot. The provisional ballot will allegedly be counted later if proof of registration and proper residency are established. But to this day, some 16,000 such provisional ballots from 2004 have never been tallied.
According to Blackwell's site, in 2006, there are 46,458 uncounted ballots in Franklin County alone. According to Matt Damschroder, Director of the Franklin County Board of Elections, some 19,524 are in Franklin County, where Kilroy is a Commissioner. Another 900 or so Kilroy-Pryce votes remain uncounted in the Madison and Union Counties.
The preliminary vote count finished election night gave Pryce a margin of some 3,536 votes. But Kilroy has refused to concede.
In 2004, Blackwell listed 788 precincts in Franklin Country, with 845,720 registered voters and some 533,575 votes cast, a 63.09% official turnout.
After the 2004 vote, the GOP-controlled board of elections purged some 170,000 Franklin County citizens from the registration rolls. The GOP claimed the right to eliminate those who had not voted in the previous two presidential election cycles. This is allowed by federal law not mandated. The impact has carried over to 2006.
For 2006, Blackwell has listed 834 precincts with 766,490 registered voters and 342,958 votes cast, an official 44.74% turnout. He lists 46,458 absentee and provisional votes cast in Franklin County. But much of the lower turnout and high provisional vote count may have to do with partisan restrictions imposed by Blackwell and the GOP, aimed at stealing elections precisely like the one between Pryce and Kilroy.
New voting requirements imposed by Ohio's HB 3, passed by the GOP legislature just after the 2004 election, led to the "flagging" of hundreds of thousands of voters in Ohio. Free Press reporters have observed a "Stop Sign" icon next to the name of between 20-40% of the voters in inner city and campus precincts in Columbus.
The stop sign is outlined on page 50 of the Franklin County Board of Elections "Precinct Elections Training Manual." It is tied to a "60-day election notice" sent to voters, but being returned as "undeliverable." Ballots cast by voters with stop signs next to their names have been electronically recorded as provisional, according to the Training Manual, and many are likely to go uncounted because the voters were in the wrong precinct.
Traditionally, Ohioans have been able to cast a provisional ballot in any precinct in their home county. But Blackwell issued a directive in the lead-up to the 2004 presidential election ordering that citizens voting in the wrong precinct would not have their votes counted at all.
Free Press observers, and statements called into the Free Press, indicate that poll workers imposed large numbers of provisional ballots on voters in Kilroy's strongholds at the Ohio State University campus and elsewhere in Columbus. A single election observer with the Five Candidates Election Observer Project 2006 reported that 1000 complaints an hour were coming into the Franklin County Board of Elections. So many were logged early in the day that the phone lines set up for the precinct workers failed. The phones for the public had to be diverted to answer the deluge of questions from pollworkers.
The Kilroy race thus may hinge on how many provisional ballots were trashed at the polling stations or will be discarded during the recount. Because the vast bulk of the uncounted ballots are in Kilroy's strongholds, the she would normally be expected to pick up enough votes to eradicate Pryce's current margin. On election night, Fox News initially announced that Kilroy would win.
But Franklin County's Republican BOE Director Matt Damschroder has postponed the recount until after Saturday's home game between number one-ranked Ohio State and number two-ranked Michigan. Rioting has traditionally broken out after this game, but the ballots are being stored at the BOE downtown, far from Buckeye Stadium.
The stunning number of uncounted, absentee and provisional ballots listed by Blackwell indicates that there may have been deeper problems with the 2006 Ohio election than widely believed.
Another Congressional race is being bitterly contested in three counties outside Cincinnati that of themselves gave George W. Bush his official margin of victory in 2004. In one of them, Warren County, an unexplained Homeland Security alert was declared just as the polls closed, with independent observers then banned from the vote count. This alert has yet to be explained by the HSA or FBI. In a special 2005 election this district, dubious computer glitches and scantron ballot problems resulted in a late night surge that gave a narrow and much-doubted margin to the Republican, Jean Schmidt, whose re-election by another narrow margin is now being angrily questioned. How many other tight races in Ohio may have been swung by dubious manipulations remains to be seen.
Though it's just a week since the votes were cast here, reports of parallel irregularities pouring in from around the country indicate that the Rove/Blackwell election theft machine was in high gear on November 7. Thousands of grass-roots volunteers who monitored procedures around the US clearly made a difference.
But the full story of what really happened in Ohio 2006 and elsewhere almost certainly won't be known until well after this year's college football season.
--
Bob Fitrakis and Harvey Wasserman are co-authors, with Steve Rosenfeld, of WHAT HAPPENED IN OHIO?, just published by the New Press. They are of counsel and plaintiff in the King Lincoln lawsuit which helped unearth many of the irregularities in the 2004 and 2005 election. Fitrakis was an independent candidate for governor in Ohio 2006, endorsed by the Green Party. Wasserman's SOLARTOPIA! OUR GREEN-POWERED EARTH, A.D. 2030, is available at
www.solartopia.org
. Ron Baiman is a statistician and researcher at Loyola University. Read more of their work at
http://freepress.org
.